Laboratorio di Liuteria Antica
Tonewoods

BUY MAPLE

Violin *** Viola *** Cello *** Guitar

BUY SPRUCE

Violin *** Viola *** Cello *** Guitar
Bosnian Maple
acer pseudoplatanus
Maple from altitude which follows a similar cutting and selecting procedure as spruce. Those trees grow in relatively high altitude at about 800 - 1000 meters above the sea level in the Balcan forests.
| | |
| --- | --- |
| mountain maple in the natural habitat in Balcan forest on 900 mt above the sea level | a close look of the flamed mountain maple tree in the forest ; this tree will be suitable for instrument making |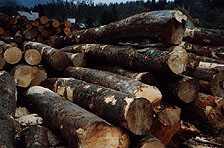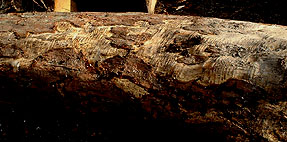 Trees are cutted down during late Autumn and Winter always in waning moon period. After beeeing cutted down they are left to dry. During quality selection the only one choosen and suitable for instrument making are flamed truncs or is same cases also those with bird-eye structure.
Under the influence of external climate's factors get some maple's trees during growing a particular valuable characteristic like bird-eye or flamed texture since centuries well appreciated and known from all instrument builders.
| | |
| --- | --- |
| | Bird-eye maple is probably the a consequence of some local infection with a lot of partially developed bud. |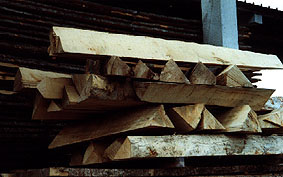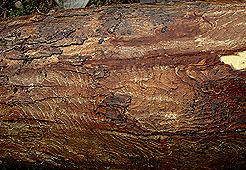 log of flamed maple with typical bark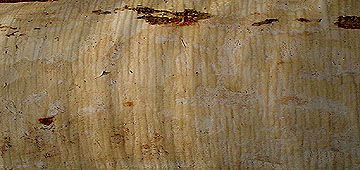 log of flamed maple without bark
The typical flamed structure which continues in the radial section of the tree is a result of a short ondulatory growing.
Only logs with the mentioned texture will be selected, used and offred for making of musical instruments. Proportionally will be in the forest one tree on several thousand cubic meters that correspond to this specific characteristic.
Selected truncs are then quartered by sawing . After beeing cutted on size are then covered with paraffin to prevent cracks. Also maple must follow a natural seasoning.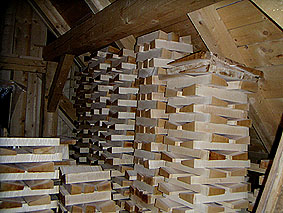 wood seasoning in our alpine strorehouse
Some examples of naturally seasoned maple (acer pseudoplatanus)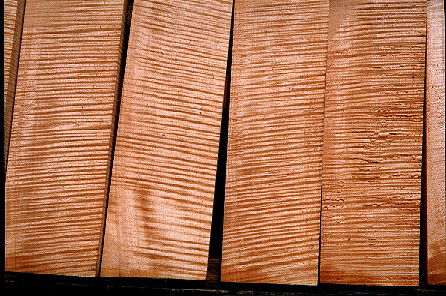 Extra quality flamed maple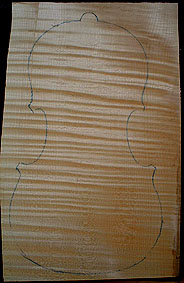 One-piece violin back
Net price list in EURO for flamed maple
(currency converter)

buy MAPLE


buy SPRUCE

Backs
| | | |
| --- | --- | --- |
| SELECTION | VIOLIN | VIOLA |
| IV q not flamed | 15 | 17 |
| III q slightly flamed | 25 | 28 |
| II q better flamed | 55 | 59 |
| I q nice flamed | 95 | 104 |
| Extra * best quality | 135 | 145 |
* not always available
Neck blocks
| | | |
| --- | --- | --- |
| SELECTION | VIOLIN | VIOLA |
| IV q not flamed | 5 | 5,50 |
| III q slightly flamed | 10 | 11 |
| II q better flamed | 18 | 19 |
| I q nice flamed | 25 | 28 |
| Extra * best quality | 37 | 42 |
Ribs (price per set)
| | | |
| --- | --- | --- |
| SELECTION | VIOLIN | VIOLA |
| III | 6 | 6 |
| II | 10 | 10 |
| I | 15 | 15 |
| Extra | 22 | 22 |
Unflamed hand-split treated maple for bridges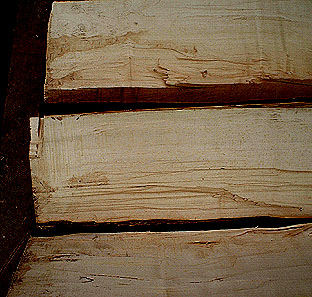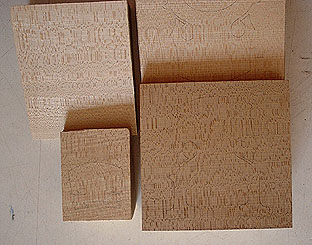 ---
tonewood(AT)liuteria-antica.com
For any order please submit the order form
All materials contained in this web site including images may not be reproduced ,displayed, published or used by any means without the written permission of Laboratorio di Liuteria Antica
All rights reserved 1999-2013