Universale
corde musicali
musical strings
Made in Italy

Highest quality ram's & ox's gut strings for Renaissance, Baroque & Classical performance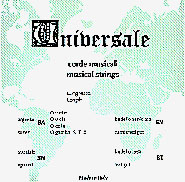 Universale musical strings distinguish from the respect of the manufacturing which follow the tradition of Italian string making based on historical practice and methods passed from one generation to the other.
Well constructed strings - such as Universale musical strings - offer to the customer a good combination of flexibility and durability . Maximum elasticity , ready attack and best acoustical performance with richness of upper harmonics distinguish this string from others available on the world's market. To increase tuning stability , longer playing life as well as to retard moisture penetration by hand perspiration are strings varnished.
The Universale musical strings are made from first quality selected gut (ram & ox). Each string is produced with utmost care including long experience in string manufacturing. Pure silver wire used for wound strings give them warmer and more powerfull tone.
Universale musical strings are produced in the following length :
120 cm, 180 cm (240 cm for fret use).
On request can be produced any kind of thickness from 0.36 mm up till 3.40 mm.
AVAILABLE PRODUCTS
BV: varnished high twist ox's gut strings
SN: special ox's gut strings with quickness of response suitable for mid registers
CB: Venice Calines are thanks to their elasticity & softness suitable for mid registers
BA: pure silver wound strings on ox core
MBA: pure silver wound gut strings on ram core
MBV: varnished high twist ram (male sheep) gut strings
MSN: special ram gut strings suitable for mid registers
BT: natural fret gut
To insure freshness are all products packed in individual plastic bags.